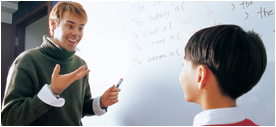 "Grasp the subject, the words will follow." – Cato, Roman orator
Grasping the concept of new languages only with the help of grammar rules is highly inefficient, often ineffective, and it quickly becomes very tedious. For one to learn a new language or improve significantly on the one they already know, students need to not only grasp the grammatical structure of the language but also the emotional landscape that the language stands on.
Rhythm, intonation, and pronunciation are important parts of the language that they can't be left to be learnt when lessons in grammar are over. The services offered here in Language Training through Dramatics uses the unique method of learning through imitation of the natural way a human child learns a new language: listening first, followed by speaking, writing, and reading.
We offer courses at the following levels:
Beginners
Intermediate
Advanced
Professional Communication